In Fredericksburg, Virginia, there sits a pre-civil war slave auction block. Its upset to black and white residents and it should be in a museum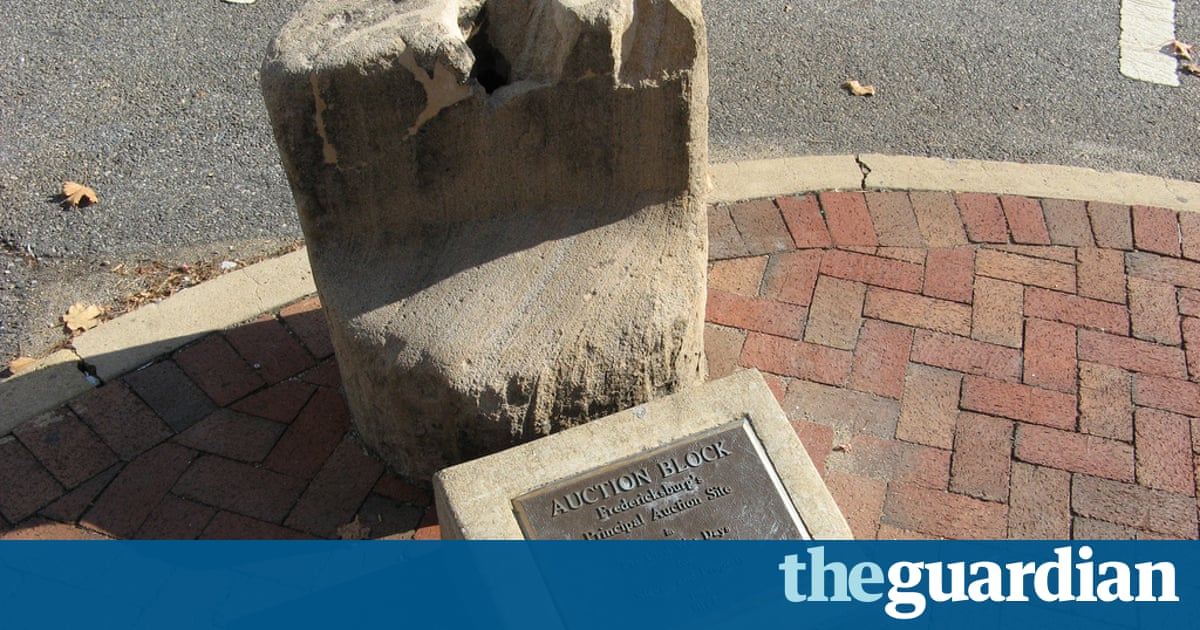 As hurricanes ravage large parts of the US, another kind of tempest continues in my hometown of Fredericksburg, Virginia, over whether to move a pre-civil war slave auction block from a prominent historic district corner to be housed at the local museum.
I signed the petition to remove the now infamous slave auction block and was amazed to insure the local political controversy elevated to the world stage in last week's article, penned by fellow Fredericksburg native David Caprara. To set it frankly, I believe Caprara interred the lede.
The crux of this issue is that tourists perform taunt slave auctions atop this block, or otherwise disrespect it by sitting on it, standing on it, and taking smiling pictures of their family with it. It's upsetting- to black and white residents alike. In the words of Chuck Frye Jr, Fredericksburg's only black city councilman and a strong supporter of the auction block's removal:" If it weren't there, this wouldn't be happening. It's that simple ."
One solution might be to cordon off the block to visitors while providing more contextual signage- the present sign says nothing of the slave households who were savagely rent apart there. However, it's the block's place- mock auctions or not- that many find distressing. Several friends have told me they'd like to feel free to take their families out for pizza, or just go for a walk to the corner coffee shop, without being confronted with a visual reminder of the cruelties committed against their ancestors. At a recent city council meeting , Faith Childress said she has friends who avoid William Street altogether.
Petition foes argue that the block's unassuming location is what devotes it power as an historical artifact, and that it wouldn't have the same emotional impact if viewed in a museum. I have heard some compare it to the Auschwitz concentration camp, claiming that the two locales serve much the same function- to ensure that we never forget the atrocities of the past and never allow them to be repeated. While these sentiments are well intended, one would hope that Fredericksburg's residents don't need a daily reminder not to enslave people.
Adrian Elliott, an African American resident and native of Fredericksburg, doesn't think the comparison to Auschwitz quite holds up. Auschwitz is" a place you go to knowing that you'll be hanging your head for the next three days" and that its place constructs it a destination unto itself. One must actively choose to visit. In contrast, the auction block sits in the middle of town.
As the self-proclaimed " most historic city in America " — the region was the site of four major civil war battles as well as the boyhood home of George Washington- Fredericksburg and its residents are committed to preserving its own unique history. But the history of the block does not end with slave auctions. In the decades since, it's constantly been used as a tool of oppression. Frye quotes stories he's heard from older black residents about how, as children, white tourists asked them to stand on top of the block for photo ops. In the Jim Crow south, when black people literally risked being lynched for something as simple as not stepping aside to let a white person by on the sidewalk, who would dare deny this humbling request?
An overlooked facet of this issue is that moving the block to a museum might be the best route to preserve it, since it would reduce the risk of vandalism. In 2005, a former classmate of mine took a sledgehammer to the block in what was a noble -yet perhaps misguided- act of friendship. His best friend was black and have all along been determined the block troubling.
Councilman Frye disagrees with Caprara's assessment that" a common reaction is to hurl this rock in the same mental heap" as Confederate memorials and flags. "[ Removing the block] is an idea" Frye and others have been" talking about for years"- well before the recent commotion over Confederate monuments. Frye recognise the block's historicity sets it apart from Confederate monuments, but that fact doesn't change how it attains black residents feel.
Most perplexing is the reason for removing the block- that it stirs up uncomfortable feelings- paradoxically seems to be the principles of argument for not removing it. But do the impressions of white people- their guilt and need for self-flagellation over the atrocities committed by their white forebears- trump the impressions of our city's black residents?
Read more: www.theguardian.com