Over the years, I've purchased different survival kits and most of them were made with cheap items that wouldn't last through the duration of an emergency. In fact, one kit I purchased had a "survival knife" that was so dull it wouldn't cut through a sheet of paper. What am I supposed to do with this is an emergency?
I know that many of you have made this prepper mistake.
In an emergency, when you are only left with your tools to survive, you want them to be dependable.
With that in mind, the folks over at Global Tactical Gear created a survival kit only using "high-quality, reliable gear for emergency preparedness and survival situations," and I have to say I'm impressed.
Everything you need in an emergency
When I opened the package I was immediately pleased with the water-resistant case the kit came in and the attention to detail in every item. All items in the kit are good quality and can serve multiple purposes in an emergency. For example, the survival pen not only writes, but can also be used to break glass if you need to escape from a car, and the saber card has a can opener, bottle opener, 4 and 2-position wrench, butterfly, and direction ancillary wrench, screwdriver, knife edge, saw blade, and ruler. And that's just one item!
As well, I love the size of this kit. It is small enough to fit in a glove compartment of a vehicle, a bug out bag or even in a medium to large size purse.
Here's what is inside:
3.5″ Survival Knife with Seat Belt Cutter
Large Ferro Flint & Steel Fire Starter
Tactical Pen
Emergency Thermal Blanket
350 Lumen Flashlight (all metal)
Compass
Multi-Function Saber Card
Aluminum Alloy Whistle with 120db
Shockproof and Water-Resistant Case
How-To User Guide eBook
"10 Tips for Wilderness Survival" eBook
If this kit isn't enough, they also include a FREE survival eBook that you can download. Hands down, this is the best survival kit I have seen and will be purchasing another for my vehicle. Another plus is the regular price is $27.99 – which is very affordable!
The only suggestion I would make to this kit would be to add some iodine tablets for water purification and some paracord but this could easily be added to the kit after purchasing.
Do you want one of these amazing survival kits?
Global Tactical Gear has been very generous and will be giving 2 of these multipurpose survival kits away to a few lucky Ready Nutrition readers.
Here's how to enter:
Go to your Twitter page, and like and follow @TessPennington
RT & Send
Tag a Friend
It's that simple! We're going to let this giveaway run for the month of May to give you all plenty of time to enter and will choose two winners on May 31st!
Find out more about Global Tactical Gear and be sure to like and follow them!
Whether you are looking for a lightweight preparedness kit for the car, your family preparedness supplies, or your bug out bag that will have multipurpose tools to use in an emergency, this would be the kit I would recommend. As well, it would make a great gift for your favorite prepper.
Full Disclosure: I received the Global Tactical Gear Survival Kit with Knife as a product to review, but liked it so much that I will be purchasing one for each of my family's bug out bags.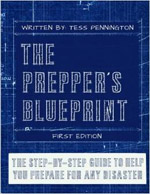 Tess Pennington is the author of The Prepper's Blueprint, a comprehensive guide that uses real-life scenarios to help you prepare for any disaster. Because a crisis rarely stops with a triggering event the aftermath can spiral, having the capacity to cripple our normal ways of life. The well-rounded, multi-layered approach outlined in the Blueprint helps you make sense of a wide array of preparedness concepts through easily digestible action items and supply lists.
Tess is also the author of the highly rated Prepper's Cookbook, which helps you to create a plan for stocking, organizing and maintaining a proper emergency food supply and includes over 300 recipes for nutritious, delicious, life-saving meals. 
Visit her web site at ReadyNutrition.com for an extensive compilation of free information on preparedness, homesteading, and healthy living.
This information has been made available by Ready Nutrition
Originally published May 1st, 2018
50 Awesome Stocking Stuffers Every Prepper Will LoveHow to Make the Perfect EDC Survival KitPost-EMP: How to Get Out of Dodge in the SnowFrugal Prepping: 12 Survival Tools You Need in Your…Three Important Considerations of a Good Survival Knife
Read more: readynutrition.com