Human animal was something of an Isis celebrity and attack in Raqqa damages the terror groups prestige, says Pentagon spokesman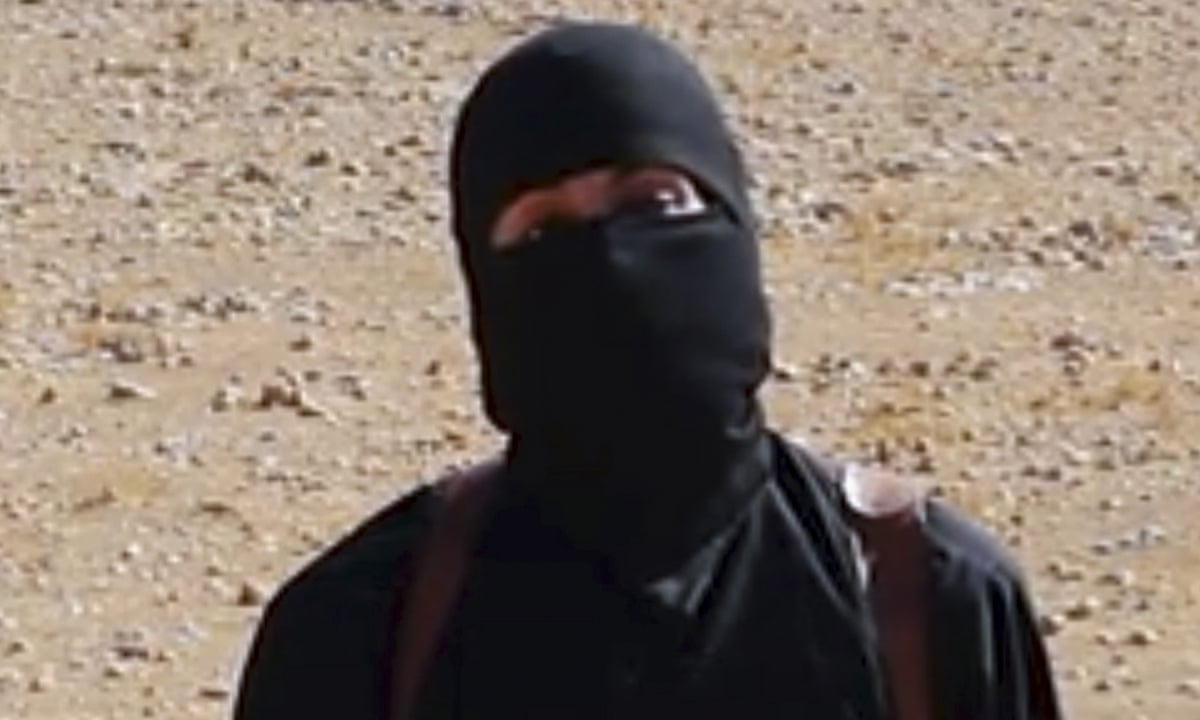 Western leaders and the military have hailed the apparent killing of the notorious Islamic State murderer Mohammed Emwazi as a symbolic blow in the battle against the terror group, condemning the British citizen as a human animal for his role in the killing of foreign hostages held by Isis.
The US military said it was reasonably confident the Hellfire missile aiming for his car in the Syrian city of Raqqa on Thursday had hit the right target, killing the man known as Jihadi John and that the strike had not caused civilian casualties.
This is significant of course because Jihadi John was somewhat of an Isil [Isis] celebrity a kind of a face of the organisation in many senses so there is significant blow to their prestige, said Pentagon spokesman Steve Warren.
This guy was a human animal. Killing him is probably making the world a better place.
The targeted killing came just hours before Kurdish Peshmerga forces retook the Iraqi town of Sinjar, in an operation that was backed by American air strikes. US special forces working alongside Kurdish fighters in Iraq have directed about 250 air strikes against Isis fighters in the town in recent days, helping them sever a key supply line between Islamic extremists in the two countries.
The White House claimed a confluence of events in Syria showed the strategy of cooperation in targeting Isis was finally showing some signs of progress .
David Cameron, speaking from the steps of Downing Street, promised Britain would continue to help track British-born jihadis who pose a threat to the UK and defended the targeting of Emwazi. He said the killing was an act of self-defence and the right thing to do.
But Labours leader, Jeremy Corbyn, said it would have been far better if Emwazi had faced a trial in the courts. It appears Mohammed Emwazi has been held to account for his callous and brutal crimes. However, it would have been far better for us all if he had been held to account in a court of law.
Though Emwazi is not seen as a top military leader of Isis, his likely killing in the drone strike is seen as a sign of growing intelligence progress and a symbolic public relations coup.
The role that Mr Emwazi has played in radicalising and inspiring individuals around the world to join their cause made him a threat not just to the region but to countries around the world, said White House spokesman Josh Earnest.
Charles Lister, visiting fellow of Brookings Doha Center and author of a forthcoming book on jihadis in Syria, said: Killing Emwazi is highly symbolic for sure, but its not going to directly change battlefield dynamics by itself. By reminding Isis that it is constantly under surveillance not just from the air but possibly also by assets on the ground the coalition is enforcing an intense psychological pressure that can severely test a terrorist groups cohesion and unity.
Emwazi was hit in a drone strike in Raqqa, the de facto capital of Isis, alongside several other fighters. The incident is believed to have happened at between 11.51pm and midnight local time (10pm GMT), with some 14 air strikes during that period.
The US military said it was reasonably certain Emwazi had been killed in the drone strike, which hit a vehicle and killed one other occupant. Video footage taken by the US is believed to show him leaving a building in central Raqqa and entering a vehicle along with a driver, whom Warren referred to as his worst best friend.
The anti-Isis campaign group, Raqqa Is Being Slaughtered Silently, said Emwazi was killed in a drone strike on his car as he left a building near the Islamic court, a short distance from the terror groups operations centre. The Turkish authorities also claimed to have arrested another British associate of Enwazi, believed to be Aine Lesley Davis, in Istanbul.
From August 2014 Emwazi appeared in a series of videos taunting the west and beheading hostages on camera including two Britons, David Haines and Alan Henning, as well as the US journalist James Foley. He also appeared in videos with the American journalist Steven Sotloff, aid worker Abdul-Rahman Kassig formerly known as Peter and Japanese journalists Kenji Goto and Haruna Yukawa shortly before they were killed.
Ever since Emwazis unmasking as a UK citizen, the British government has sanctioned GCHQ to track him down and target him. Some friends and family of those murdered by Emwazi on Friday showed little joy in his killing. Foleys widow, Diane, said she could not celebrate his death, describing him as a deranged and pathetic man.
Majid Freeman, a friend of Henning, criticised the attack, saying it would turn Emwazi into a martyr for his followers and urged Cameron to put less effort into drone strikes and more into rescuing hostages. He said they would have preferred for him to have been tried as war criminal.
Hainess daughter Bethany told ITV News: After seeing the news that Jihadi John was killed I felt an instant sense of relief, knowing he wouldnt appear in any more horrific videos. He was only a pawn in Isiss stupid game but knowing its over, that hes finally dead, still hasnt sunk in.
As much as I wanted him dead, I also wanted answers as to why he did it, why my dad, how did it make a difference?
The prime minister stressed the legality of the US action, saying Emwazi remained a threat. [Emwazi] posed a serious and ongoing threat to civilians not only in Syria, but around the world and in the UK too. He was the lead executioner for Isis, and let us never forget he killed many, many Muslims too. He was intent on murdering many more people.
Read more: www.theguardian.com