A compass is a Go Bag essential, but it won't do you squat if you don't know how to use it, and chances are – you don't.
Forget more completed orienteering type "map" compasses, they are too complicated for the average user, and are designed for sophisticated navigation.
You just don't want to get lost. A good simple camping style pocket compass can be your best friend in a survival situation, and requires no special skills to use.
Here's how to use a basic compass.
Hold the compass flat in the palm of your hand at chest level;
Move your body around until the Red end of the needle, usually marked with an "N" lines up with the "N" on the face of the compass, now you know which way is North.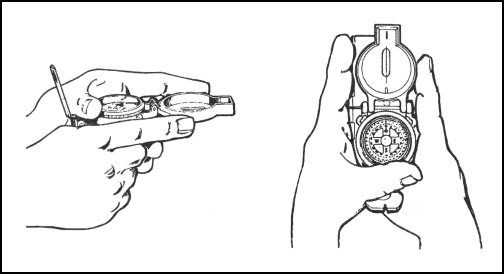 So long as you keep the red magnetic needle lined up with the "N" on the compass – you will always be able to get your bearings and know how to travel in any direction you wish. Some simple compasses also have a rotating clear bevel on top with a clear Lucite arrow. These are a good idea if you have never used a compass.
With such a compass, once you have identified North as above, and you want to travel east for example, turn the Lucite arrow so it lines up over the "E", and head in that direction. Leave the arrow there as a reminder of the direction you want to move in, and every 100 paces or so, realign the red compass needle to the North,
to be sure you are moving in the desired direction.
Here are 2 videos that will show you how to do it the right way.

Last Word
Your Bug Out Bag is critically important, but only as a vital tool that will help you survive. Never forget that YOU are still your best and most ULTIMATE survival.
Saving our forefathers ways starts with people like you and me actually relearning these skills and putting them to use to live better lives through good times and bad. Our answers on these lost skills comes straight from the source, from old forgotten classic books written by past generations, and from first hand witness accounts from the past few hundred years.
In short, our ancestors lived more simply than most people today are willing to live and that is why they survived with no grocery store, no cheap oil, no cars, no electricity, and no running water. Just like our forefathers used to do, The Lost Ways Book teaches you how you can survive in the worst-case scenario with the minimum resources available. It comes as a step-by-step guide accompanied by pictures and teaches you how to use basic ingredients to make super-food for your loved ones.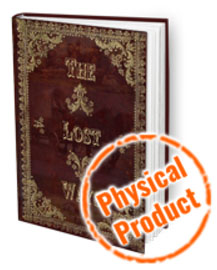 WHAT TO READ NEXT:
5 TECHNIQUES TO PRESERVE MEAT IN THE WILD YOU SHOULD PRACTICE
HOW TO MAKE YOUR OWN BACON (STEP BY STEP GUIDE)
A RETURN TO THE OLD PATHS: HOW TO MAKE PEMMICAN LIKE THE NATIVE AMERICANS
20 LOST RECIPES FROM THE PIONEERS: WHAT THEY COOKED ON THEIR JOURNEY WESTWARD
SEVEN CLASSIC GREAT DEPRESSION ERA RECIPES GRANDMA USED TO MAKE
POTTED MEAT: A LOST SKILL OF LONG TERM MEAT STORAGE
BACK TO BASICS: HOW TO MAKE AND PRESERVE LARD
THE BEST WAY TO STOCKPILE VEGETABLES OFF-GRID
OLD FASHIONED PRESERVING-GRANDPA'S RECIPE FOR CURED SMOKED HAM
HOW TO MAKE GUNPOWDER THE OLD FASHIONED WAY
SURVIVAL HERBAL RECIPES FROM OUR ANCESTORS
HOW TO PRESERVE MEAT FOR SURVIVAL LIKE OUR GRANDFATHERS
OTHER USEFUL RESOURCES:
The 3 Pioneer Survival Lessons We Should Learn
The Most Effective Home Defense Strategies
Old School Hacks for Off-Grid Living
The Medical Emergency Crash Course
The Smart, Easy Way to Food Independence
How to Survive the Coming 100 Years Long Drought
The post How to Use A Compass: A Lifesaving Skill In The Wilderness appeared first on Bio Prepper.
Read more: rspec.io