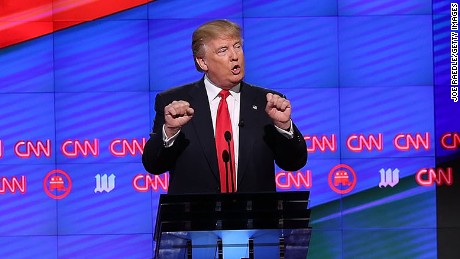 (CNN)At Thursday's GOP debate in Miami — the 12th in this campaign cycle — I saw three serious contenders for the presidency. Why only three? Because the man that will most likely be the Republican nominee did not register: He continued to lack the thoughtfulness usually seen in a serious contender.
How did they all do as debaters? Let's grade them.
Two even more frightening things came from Trump in the debate. Questioned by CNN's Jake Tapper about his earlier comment that "Islam hates the United States" he made the weak claim: "I mean a lot of them." This was rebutted by everyone else on stage.
And language matters. Tapper raised the question of whether Trump's rhetoric at his rallies inspires violence, such as the attack this week on a protester, who was punched in the face by a Trump supporter. Trump's very poor debate strategy was to lie and claim that protesters are some, "bad dudes, swinging, doing damage to people…"
You are failing at a debate when you bring on the bull.
Join us on Facebook.com/CNNOpinion.
Read CNNOpinion's new Flipboard magazine.
Read more: www.cnn.com