The City of London isn't just "the City" anymore. The 2008 crisis chipped away at the U.K. capital's banking and finance office workers, and replaced them with Silicon Valley technology and media darlings.
Creative industries account for 24 percent of London's leased office space, versus the financial sector's 21 percent, according to Credit Suisse. And a Bloomberg News report estimates that the city's biggest tenant will soon be WeWork, a U.S. startup offering trendy, flexible workspace. With Brexit around the corner, tech looks like London's renter of last resort.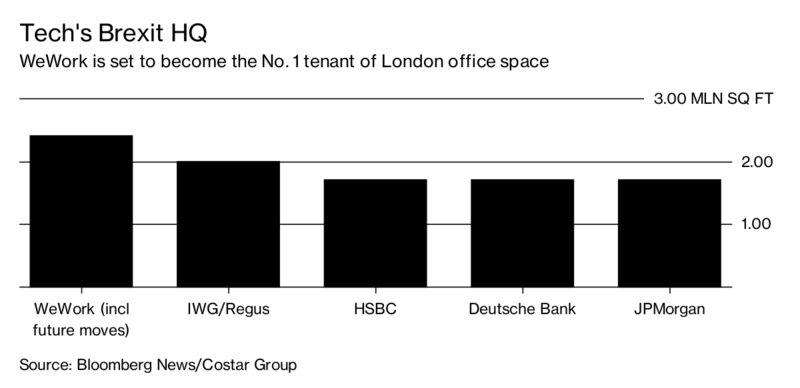 This seems to worry a lot of people. Like ride-sharing app Uber, WeWork is expanding aggressively across the world thanks to the deep pockets and racy ambitions of multi-billion dollar investors such as SoftBank Group Corp. It's unprofitable, burning through cash, yet it's valued at about $20 billion, according to CB Insights. That's about 10 times more than Switzerland's IWG, a London-listed and profitable office-space provider, which pours scorn on a rival business model it says "can't be sustained."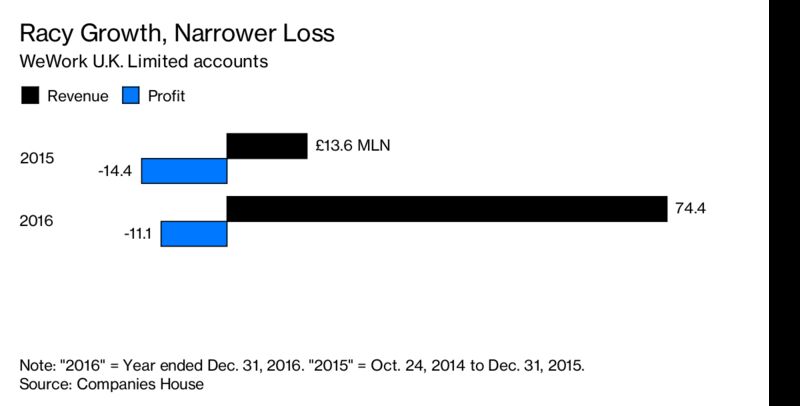 WeWork is gobbling up territory in London too, just as Brexit threatens to deflate the capital's property bubble, repel foreign talent and squeeze the startups that would populate those co-working spaces. A slowdown would threaten WeWork on all fronts.
Yet, amid all the Brexit caveats and warnings from competitors, might WeWork be on to something? There's clearly demand for its glitzy, water-cooler vibe rather than the stuffy, lonely feeling of the more typical rented desk. And its business model has gone beyond just buying up long leases and renting them back out short-term at a premium, rather like a bank that borrows long and lends short.
WeWork is now designing and managing entire offices for big corporates. Companies with more than 1,000 employees make up 20 percent of its membership and 30 percent of sales, according to Recode. That points to revenue streams that don't rely on fragile startups. The model might prove more enduring than critics think, provided economic growth holds up.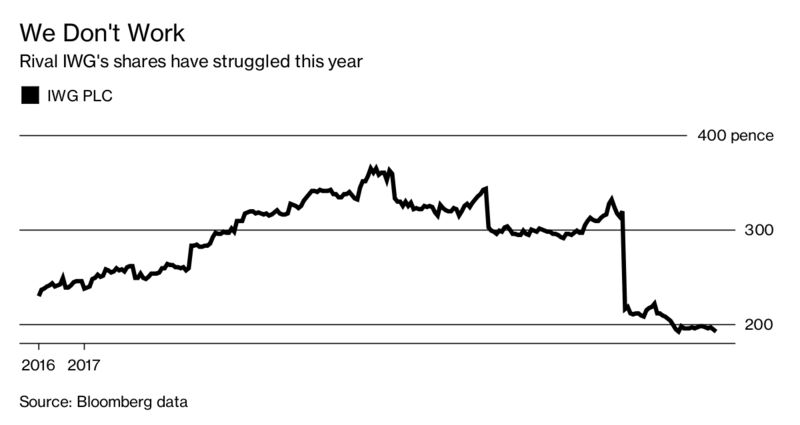 If anything, WeWork is probably working a little too well in London. That might tempt it to overplay its hand. Brexit is probably flattering demand, given Britain's March 2019 exit deadline is a nightmare for holders of long-term office space, such as the European Medicines Agency. Flexible contracts lasting up to two years will be more attractive to businesses of all stripes.
And while there's competition from serviced-office incumbents such as IWG's Regus, or copycat offerings from developers like British Land Co Plc, WeWork has a strong brand, a decent product and a balance of central locations and high-value tenants. If it gets too cocky, or too worried about rivals, there's a danger of over-committing capital—especially if it starts buying or building offices. That would be a real gamble. 
Ultimately, WeWork's dark side is not so much its exposure to an overheated property market, but more about how it treats its customers. Like other tech-focused companies with lofty valuations, much of the excitement is around collecting data on the people using its services.
With so much information about what we're doing in its co-working spaces, even stretching to the swiping of payment cards at the snack bar, WeWork will be tempted to monitor and monetize tenants like never before. And the more comfortable and fun it becomes to "work" at WeWork—the central part of its pitch—the harder it will be to check out. Maybe that old-fashioned, but anonymous, carpeted cubicle wasn't so bad after all.
Read more: http://www.bloomberg.com/